July 7, 2022 by 360 Precision Cleaning
---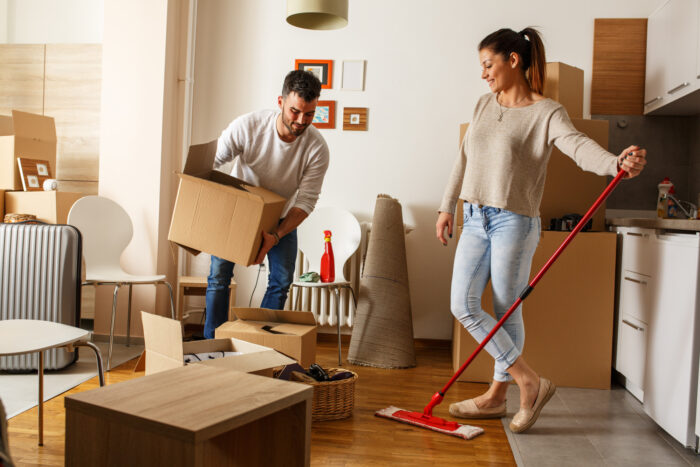 A study of stressful life events found that 45% of respondents say that moving was selected as the most stressful event in their life. This is even more stressful than getting divorced or raising a child.
Not only do you have the stress of packing away your belongings and relocating, but you also have to get your house into pristine condition. 
One thing that can help take some stress away from moving is hiring a professional move-out cleaning service. Do you want to learn more about the benefits of hiring a professional move-out cleaning service for your upcoming move? 
Keep reading this guide to see why hiring a professional cleaning company is always worth the price!
Saves Time and Energy
One of the biggest benefits of hiring move-out cleaners when you are relocating is that it will save you time and energy. Because moving can be so time-consuming and stressful, having to clean your home after you pack everything up will make the process take even longer. 
Plus, without the right tools or help from friends or family members, it can take hours to deep clean your home on your own. 
Instead of wasting time and energy cleaning your own home, you can hire professional cleaners to do it for you. This way, you will have one less thing to worry about when you are moving somewhere new! The entire process will be completed much faster and you can enjoy some much-needed rest right after you move. 
Plus, professional cleaners have the right cleaning tools and products and will clean your space in much less time than it would take for you to do it yourself. This means that they will know exactly which products to use in different areas of your home to get it looking clean and tidy as soon as possible. 
More Thorough Clean
Another reason why it is always worth it to hire cleaning services for move-outs is that it provides a more thorough cleaning of your space. Cleaning can be difficult, especially when you have lived in your home for a long time. 
There may be a lot of hidden grime that you have never noticed, which may make it even more difficult to clean your space. Often, there are areas of your home that get neglected during regular cleaning and accumulate much more dirt and grime. 
A professional cleaning company will take the time to clean every nook and cranny of your home! They will do a much better job cleaning than you could and are also skilled when it comes to deep cleaning. 
You can feel confident that they will clean everything from your carpets to your baseboards and anything else that you may have forgotten about. 
This way, you can be sure that your home was thoroughly cleaned, rather than simply clean on a surface level. After your professional cleaning service, your home will be left looking brand-new!
Avoid Unnecessary Stress
As was mentioned before, moving is one of the most stressful life events that you can go through. Adding cleaning and other tasks to your to-do list before you can move will add even more stress to your plate during this process. 
When you hire a professional cleaning company, they can take this burden off of your shoulders! Instead of having to worry about many other cleaning tasks while you pack up your belongings, you can feel confident that everything will be taken care of. 
Helps You Get Your Deposit Back
Not only is a deep cleaning service beneficial for homeowners, but it is also a great option for renters that are moving out after their contract ends. This is because many landlords have strict rules when it comes to your security deposit. 
If your rental property is not spotless, you can lose hundreds of dollars if you don't get your deposit back. Many landlords will be stingy when it comes to your security deposit and will deduct money from your deposit for any problems that they find after you move out. 
With a move-out cleaning service, you can be confident that you will get your entire deposit back after you move. Not only will the cleaners ensure that your space is left spotless, but they will also help you prove to your landlord that you did everything you could to get your space as clean as possible. 
If you hire professional move-out cleaners, you may even be able to save money in the long run by getting your deposit back! Getting your security deposit back will also help you cover expensive moving costs, like renting a moving truck. 
Someone Else Does the Dirty Work
Cleaning is time-consuming and difficult, but it can also be a dirty job. Even cleaning your own home can be quite unpleasant and you may face many unsavory cleaning tasks. 
There are many places throughout your home that can quickly accumulate grease, dirt, and other types of grime. Even things like cleaning a shower drain can be icky for homeowners to deal with. 
Hiring a professional move-out cleaning service will allow someone else to do this dirty work for you! Rather than having to clean all of the dirtiest areas of your home, you can have a seasoned professional do it for you.
Beneficial for Future Tenants
Hiring a professional move-out service is also a kind act of service that you can do for the next tenants moving into your home or rental property. While you may not know who is moving into your space once you are gone, it is courteous to leave the space clean and move-in ready for future tenants. 
Even if you don't care about helping strangers, you can think about yourself. How would you feel if you moved into your new space and it was dirty from the past tenants? 
Hiring a move-out service is beneficial for both you and future tenants when you move out of a space and will be appreciated by everyone involved in the process. 
Improved Health and Safety
When you think about cleaning your home, you may not realize how many potential safety and health hazards you may have to deal with. 
For example, using the wrong cleaning products can lead to property damage. 
Many cleaning products can also be dangerous for people without the right experience and knowledge. For example, you may be dealing with dangerous chemicals during the cleaning process. This may result in chemical burns on your skin, damage to your vision, and other types of irritation. 
Cleaning chemicals can also be dangerous when inhaled. Not only can many chemicals be dangerous to use on their own, but they can also create toxic fumes when mixed together with other cleaning products. 
When you hire a professional cleaning service, they know how to use even the most dangerous chemicals and will avoid using them dangerously. They also have the right protective gear, like rubber gloves, that can protect them while they clean your space. 
To protect your health and safety, it is best to leave the cleaning to the professionals. 
May Help You Sell Faster
If you are planning on moving, it can be stressful to find someone to buy your home or to take over your rental contract. Studies show that the average home takes 71 days to sell from listing to closing. 
Still, there are things that you can do to help your home sell faster. Many people find that hiring a professional cleaning company can even help them sell their homes faster. This is because having a clean home will help you present it in the best light possible to potential buyers!
Most potential buyers want to buy a home that they feel comfortable in and that they can picture themselves living in it. If they come to your house and find a messy home with dirt and debris, it can easily dissuade them from making an offer on your property. 
Whether you are scheduling an open house or are taking professional listing photos of your home, having it deep cleaned first will make it more likely that your home will receive offers. 
This can even benefit those that are renting a home and are trying to sell their contract. Having your home professionally cleaned will show others that you took care of the space while you lived there and will help you sell your rental contract even faster. 
Services Are Customizable
Finally, most move-out cleaning services are customizable, which means you will only have to pay for the services that you need. Every homeowner or renter has different needs, so these customized cleaning services can help you select your cleaning preferences. 
Whether you need help with your entire living space or just your kitchen, you can find a professional cleaning company to help you with each task. 
Need Help With a Professional Move-Out Cleaning Service? 
Although moving can be stressful, there are many things you can do to make the process easier. Hiring a professional move-out cleaning service is always worth it and can help you save time, energy, and more. 
If you need help with cleaning services when you move, 360 Precision Cleaning can help. 
Contact us today to learn more about our services or to schedule an appointment with our cleaners!