October 13, 2022 by 360 Precision Cleaning
---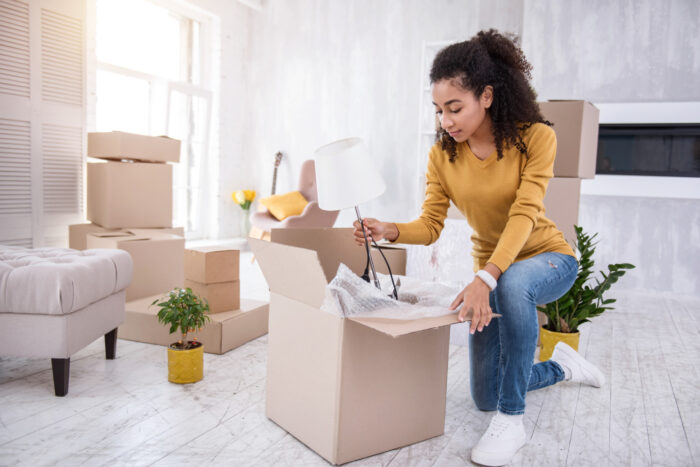 Roughly 40 million people in the United States move each year. It's one of the most exciting things that you can embark upon since you get the benefit of moving into a brand-new home. However, it's also stressful because there are so many loose ends to tie up.
You have to know how to hire professionals that can assist you with any aspect of the move that can take some of this burden off of your shoulders, while also handling the work better and more efficiently. Getting cleaning services when moving out of your old place is one of the best investments that you can make.
These tips will help you out when you're looking into move out cleaning services that will be helpful to you.
What Are Move Out Cleaning Services?
First and foremost, you need to get to know what exactly move out cleaning services are. These are the services that professionals provide that help you turn the keys back over to your proper landlord with your old place clean and intact.
Many people think to hire professionals for maid service in their homes, but don't think to hire someone once it's time to move out. There are specialty companies that can handle this work for you, who understand the main areas to focus on during the project.
What Are the Benefits of Working With Pros?
With that said, what are the advantages of working with move out cleaning professionals? Once you know the perks they provide, you'll be in a better position to make a hire and reap the rewards.
Consider the benefits of working with a move out cleaning company:
You Can Get Your Security Deposit Back
One of the best parts of hiring a pro is that you have a better chance of getting your security deposit back.
Remember that deposit that you had to pay once your application was approved and you got to move into your new place? Many people forget all about this deposit after months and years go by. So, it's no surprise that most people also forget that the deposit is supposed to be refundable.
The purpose of the deposit is to help pay for any damages you create while living in the apartment or home. If you turn the place back over in mint condition, there's no reason for your landlord to charge you. As a result, you're more likely to get your deposit back, or at least a sizable portion of it.
This deposit is often at least a year of rent, and getting this much cash back is an excellent way to start your life in your new place, or use it toward other expenses.
They Can Help You Get a Glowing Reference
Delivering your place back to the landlord in pristine condition means that your prior place has very little work to do. They will appreciate that you were a good steward of the property, and this makes them more likely to offer you a glowing reference or referral for your new place.
In most situations, landlords run background checks on tenants and circle back to ask your previous landlord about you. A rental reference letter is a valuable tool whenever you're looking for a new place to stay. It can help you get ritzy, upscale apartments or other rentals that have exclusive acceptance and longer waiting lists.
It Allows You to Focus on the Move
Perhaps most importantly, hiring professional move out services allows you to focus on the move. When you're not worried about having to put in the labor of cleaning the place, you can put that time, energy, and effort toward packing boxes, loading trucks, sorting items, and otherwise handling your move.
You will appreciate having this extra time since a move can be taxing even when you're moving out of a one-bedroom.
How Can You Get the Professional Cleaning That You Need?
Next, you have to do your due diligence so that you can find the best professional moving cleaners to assist you. This is a matter of figuring out what you need and hiring the pros that can do the work for you.
Here are some points to consider:
Study Your Property's Documents
In many cases, the landlord has already offered you the cheat sheet you need to get your deposit back. They provide you with a checklist of items upon move-in that you need to check to acknowledge that they are in working condition, or that they require some repair.
Many landlords also provide a move out checklist that you can go through to make sure you're properly cleaning every nook and cranny. This lets you know what details they're looking for to subtract from your security deposit or otherwise penalize you. You can pass this checklist off to your cleaning professional so that they can also go through it with a fine-toothed comb to make sure the work is up to the necessary standard.
Find a House Cleaning Service With Experience and Reputation
Next, shop around for a licensed and insured company that provides the best move out cleaning services. Key in on the attributes that show the cleaners to be hardworking and dependable. Perhaps you'd like to do business with a cleaning business that is family-owned or accustomed to working on projects in certain industries.
Maybe you're active duty or former military and want to do business with cleaning companies owned and operated by veterans.
Just as importantly seek out companies that have a quality reputation in the community and verifiable reviews to go along with it. Check the company out with the Better Business Bureau (BBB) and other organizations that vet companies for their business practices.
Shop for the Best Prices
When you speak to several different cleaning companies, you're more likely to get a fair price for your efforts. Get at least three different price quotes from the best professionals in your area, and figure out how much you're willing to pay for the services.
Consider the amount of the security deposit that you're expecting to get back, and make sure that you're getting stellar service in exchange for the money that you're paying.
Focus on Thorough Sanitization
While these companies focus on extensive cleaning services, don't forget the basic sanitation that comes with the territory. Thoroughly have these professionals clean your kitchens and bathrooms since they're high-traffic areas that generate a lot of bacteria.
Find out what kind of cleaning products these professionals use, and learn whether they are eco-friendly or chemical-based. Ask what tools and equipment they use as well so that you know that your apartment or home will be cleaned to the highest standard.
Make Sure Walls and Floors Are Taken Care Of
Ask the company what kind of service they provide for walls and floors. These are often the most damaged surfaces in a home due to incidental contact and general living.
You're more likely to get your deposit back when the walls and floors are a point of emphasis, while also being careful to not strip away the paint or other material.
Schedule the Cleaning in Enough Time
The best thing you can do is book the service of a move out cleaning company in ample time. This locks in their services, gets you the best rate, and also gives you plenty of time to turn over the place to the landlord.
Waiting too long can cause you to run into the move out date, which can lead to you getting charged extra for moving out late.
Get Specialty Service for More Serious Cleaning Needs
Consider whether you need any specialty cleaning services. You might need a company with certain expertise based on your cleaning needs, particularly if you're a smoker, have pets, or have dealt with an accident or serious mess.
Perhaps you need Airbnb cleaning services or help moving out of a commercial property. You might also need a company that can apply extensive cleaning work to old appliances. Regardless, make sure the company matches the service that you need.
Take Photos and Videos and Document Everything
Finally, make sure that you document everything once the work is complete. Having proof of the stellar professional cleaning work that you get can help you if there's any dispute over your security deposit.
Consider taking before and after multimedia for full effect.
Hire the Best Move Out Cleaning Services
The tips above are worthwhile when you need nothing but the finest move out cleaning services. When you invest in these professional services, you'll address your move with the professionalism and care it deserves.
We'd be happy to assist you. Allow 360 Precision Cleaning help you when you're looking for cleaning help when it's time to move out. Shoot us an e-mail or give us a call at (480) 418-3007.