October 25, 2022 by 360 Precision Cleaning
---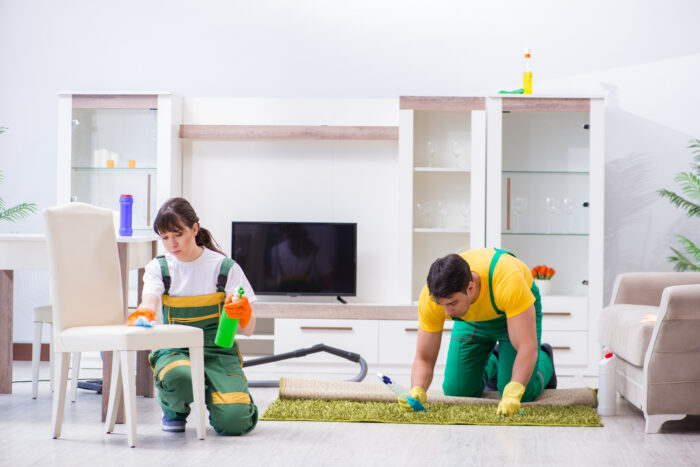 Most people love a clean home, but a whopping 73% don't enjoy the actual act of cleaning. No surprise there. If you fall in this majority, it might be time to consider hiring help. After all, your home is a reflection of you. A clean home can make a good impression on guests and make you feel better about yourself.
If you're not sure where to start, check out house cleaning services in Scottsdale. They'll come to your home and clean it from top to bottom, so you don't have to lift a finger. A little iffy about hiring a house cleaning service? Here are three advantages to consider.
Saves Time
The most obvious advantage is that a house cleaner saves you time! Instead of spending your precious free time cleaning the house, you can relax or spend time with family and friends. And we all know that time is precious, and if you work a grueling 9-5, the last thing you want to do is spend your weekends cleaning.
Saves Money
You might be thinking, "Why would I spend money to have someone else clean my house when I can do it myself for free?" But when you factor in the cost of cleaning supplies and equipment, it could cost less to hire a professional.
They'll have the right equipment for tough jobs like high windows and tough kitchen grease. Not to mention, they'll get the job done a lot faster and better than you ever could!
Get the Job Done Right
When you hire a professional cleaning company, you can rest assured that the job will be done right. They possess the experience and knowledge to make your home shine, no matter the size of the job. And they'll use high-quality products that won't damage your surfaces or furniture.
So if you're sick of cleaning and want to free up some time, hire a house cleaning service in Scottsdale. You'll be glad you did.
What to Look For in a Deep Cleaning House Service
How do you choose the right company when it comes to deep cleaning a house? Here are some things to consider.
Services Offered
First, take a look at the services each company offers. Do they offer the specific services you're looking for? If not, you can cross them off your list.
Price
Of course, you'll also want to compare prices before making a final decision. Get quotes from several companies and compare them side-by-side to see who offers the best value for your money.
When comparing prices, it's important to look at the value you're getting for your money. Some companies charge more because they use high-quality products and equipment that will clean your home better. Others charge less because they use lower-quality products or don't offer as many services.
Make sure you get a written estimate before hiring a company. This will help you avoid any surprises down the road and ensure that you're getting the best possible value for your money.
Reviews
Take a look at online reviews to get an idea of each company's reputation. This will help you weed out the not-so-great companies and find the best house cleaning services in Scottsdale.
Personal Recommendations
If you have friends or family in the area, ask for their recommendations. They might have used a cleaning company that they loved and can recommend them to you.
Ask Questions
Be sure to ask plenty of questions when choosing a cleaning service so you can learn more about the company. Find out how long they've been in business, what their cleaning process is like, and what kind of results you can expect.
Licenses and Insurance
When looking for house cleaning services in Scottsdale, make sure that the company has the requisite license and insurance. This protects you against damages or injuries that may occur during the cleaning process. Having strangers in your home can be risky, so it's important to take precautions and choose a reputable company.
Typical House Cleaning Services
Wondering if a house cleaning service offers what you need? Not every company offers the same services, so it's important to find one that matches your specific requirements. For example, some companies may only offer basic cleaning services while others offer more comprehensive packages.
Basic cleaning services may include vacuuming, dusting, mopping, and cleaning the bathroom and kitchen. More comprehensive packages may also include window washing, carpet cleaning, and upholstery cleaning. Here are a few services offered by house cleaning services that you can look out for.
Move-In/Out Cleaning
If you are moving into a new home, you will want to make sure that it is clean before you move all of your belongings in. Moving in or out of a new home requires a lot of work and can be very overwhelming.
The last thing you want to worry about is cleaning the new place yourself. You also don't want the hassle of cleaning your old place. This is a great time to hire a house cleaner to take care of this task for you.
One-Time Cleaning
Maybe you're throwing a party and need some help getting the house ready. Maybe you want to get a cleaning done after the party. Or maybe you just need a deep clean after months of neglect. Whatever the reason, hiring a professional house cleaning company for a one-time cleaning can be a lifesaver.
Recurring Cleaning
If you want to keep your home clean but don't have the time to do it yourself, you can hire a house cleaning company to come and clean once or twice per month. Recurring cleaning helps to keep your home clean and tidy on a regular basis. This is a great option for busy families or those who entertain often.
Deep Cleaning Services
Deep cleaning is a more thorough cleaning than regular cleaning. This type of cleaning is done once or twice per year. It includes all of the nooks and crannies that you may not think to clean or don't have the time to get to. Cleaning services get the job done in a quick and efficient manner.
Tile and Grout Cleaning
Over time, tile and grout become stained and discolored. This is true in kitchens and bathrooms where spills are frequent. Tile and grout cleaning can make your tile look brand new again.
Window Cleaning
Dust, dirt, and fingerprints can make your windows look dirty. Window cleaning is a great way to let in natural light and make your home look its best.
If the windows are hard to reach or clean, a house cleaning company gets the job done. This is a great way to keep your windows clean and streak-free.
Carpet Cleaning
Carpets are a tough spot, even more so if you have pets or kids. Carpet cleaning removes stains, dirt, and other debris from your carpets. This will leave them looking and smelling fresh and new.
Post-Construction Cleaning Services
If you have just had construction or a major renovation done on your home, you will want to hire a post-construction cleaning company to come in and clean up the mess. This type of cleaning is very thorough and will leave your home looking like new.
Eco-Friendly Cleaning Services
Many people prefer eco-friendly cleaning methods. If this is important to you, make sure to ask about it when you are looking for house cleaning services in Scottsdale. Some companies use eco-friendly cleaning products and methods.
This is a great way to protect the environment and your family.
Disinfection Services
Covid 19 has made disinfection and sanitization a top priority for many people. If you are interested in hiring a house cleaning company that offers these services, make sure to ask about it. Many companies offer disinfection and sanitization services as an add-on to their regular cleaning services.
Pressure Washing Services
If you have a deck, patio, or driveway that needs to be cleaned, pressure washing is a great option. Pressure washing can remove dirt, grime, and stains from your outdoor surfaces.
Laundry Services
If you don't have time to do your laundry, hiring a house cleaning company that offers laundry services is a great option. This is a great way to get your laundry done without having to lift a finger.
These are just some of the many services that house cleaning companies in Scottsdale may offer. Take advantage of these services to preserve your precious time while enjoying a sparkling clean home.
Schedule House Cleaning
If you're looking for a reliable and affordable way to keep your home clean, 360 Precision Cleaning is here to help. We offer comprehensive house cleaning services that will leave your home sparkling. Our team of experienced and qualified cleaners will work to ensure that every nook and cranny is cleaned well.
Plus, we use the latest in cleaning technology and equipment to get the job done. So if you're tired of struggling with housework, schedule a cleaning today to enjoy the benefits of professional house cleaning.