February 23, 2021 by 360 Precision Cleaning
---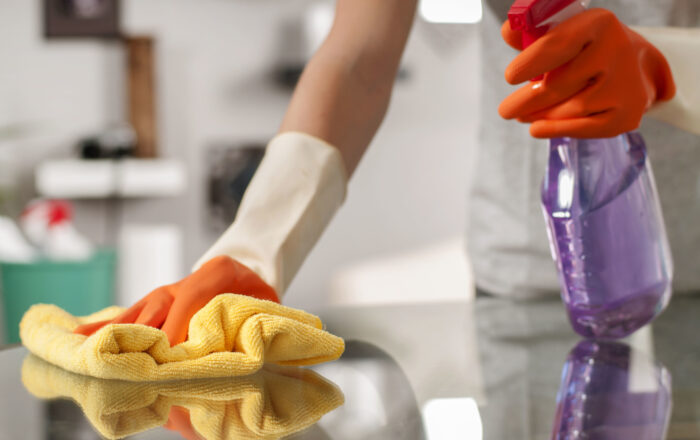 Between work, kids, and the stress of life, home cleaning is the last thing you want to do. If you're considering hiring professional cleaners, you've come to the right place. We'll go over how to hire a cleaning service, and the many benefits you'll receive.
From cleaner air to a better quality clean, this guide has everything you need to know about the perks of hiring an Arizona cleaning service. Consider this your go-to guide to the pros of professional cleaners.
1. Healthier Indoor Air
Healthy, clean air is better for everyone in your house. Allergens, dirt, dust, and pet dander all find a way to build up. This build-up ends up in your HVAC system, circulating throughout your home.
A professional cleaning will help keep these allergy triggers away. Your home will be cleaned to remove allergens, dust, and dander from the surfaces and fabrics in your home. Carpets, flooring, blinds, and upholstered furniture are all deep cleaned.
Breathe better and get peace of mind that your home is allergen-free. You'll feel the difference in your air quality.
2. Relax and Enjoy Your Home
Home should be your sanctuary. With so much time spent at home, it's hard to relax when there are endless amounts of cleaning to get done. When your home is cleaned professionally, you can sit back and enjoy your space.
Relax, and take in the extra time spent with your family. Instead of always worrying about the cleaning you need to do, you can focus on what's important. Use your time for family, work, hobbies, and well-being instead.
3. Save More Money Long-Term
Furniture, flooring, and window treatments are expensive. If you don't clean them, they will wear down over time. You'll see them lose color, rip, and become dingy and dirty. Professional cleaning helps to protect your expensive items.
Everything in your home is well-maintained and cared for. Your upholstery is cleaned, and your carpets and flooring get a one-of-a-kind professional treatment. The money you spend on professional cleanings will save you money on replacing expensive items in the long run.
4. Use the Correct Tools
If you're not a professional cleaner, chances are you don't have the correct equipment to efficiently clean your home. Commercial cleaning equipment is expensive. You need the right tools to get the job done well.
Our tools, cleaning supplies, and equipment will get the job done right. You'll see and feel the difference between a professional cleaning with the right tools. You'll also save money on supplies and equipment that you'd have to buy yourself. We supply everything.
5. Saves Time
Professionally cleaning, most importantly, saves time. Between kids, work, and everything else you have going on, time is precious. Save time and protect your most important investment.
Cleaning on your own is inefficient. If you aren't sure what you're doing or you don't have the right tools, you're wasting a lot of time. It's hard to know your home is getting cleaned properly.
6. Get Those Hard to Reach Places
Baseboards, fans, and window treatments are hard to clean. Chances are, they aren't getting cleaned right. You need professional cleaning to make sure you're getting those hard to reach places.
A professional cleaning will get all those nooks and crannies. Everything in your home is cleaned from top to bottom—no need to get on your knees and try to reach baseboards and corners behind furniture.
7. Cleaner Bathrooms
Bathrooms are breeding grounds for mold, moisture, and bacteria. If you aren't able to clean them well enough, you're putting your health at risk. These harmful invaders will affect your air quality and the health of your family.
With professional cleaning, you know your bathrooms are cleaned well. We'll get the grout, hard to reach places, surfaces, drains, tile, toilets, fixtures, and more.
8. Deep Clean
No matter what you do, it's hard to get a deep clean when you're not a professional. Let us come and deep clean your home. You know we're using the right tools, cleaning products, and equipment to get the job done right.
Your home is deep cleaned from top to bottom. You'll see the difference a professional deep clean makes. Not to mention the time and money you'll save. Deep cleaning a house will take a day by yourself. Let our team come in and tackle it within a couple of hours.
9. Tackle Dust
Dust is everywhere. There's no denying dust builds up on every single surface in your home. No matter how much you clean your home, dust will get there. It especially loves to get on top of shelves, ceiling fans, light fixtures, and window treatments.
If you aren't cleaning these each week, the dust is adding up. This affects your indoor air quality and the health of your family and friends. You don't want children and guests breathing in dust and air pollutants.
10. Clean Carpet Lasts Longer
Carpets are a big investment. Keep them looking great and lasting longer with professional cleaning. You'll save money on wear and tear.
A professional cleaning will add years to your carpet. The same goes for your tile, hardwood, and other floorings in your home. Keep it protected, and make sure you're using the right products and tools to get it cleaned right.
How To Hire Cleaners: Home Cleaning 101
If you're considering a professional home cleaning, 360 Precision Cleaning is the answer you've been looking for. We'll take care of everything from the floor to the windows. Between the cleaning supplies, equipment, and friendly crew, you'll know your home is being cleaned by the pros.
If you're ready to book your first professional home cleaning, fill out the contact form here. We'll come up with a cleaning schedule that fits all your needs.