February 9, 2021 by 360 Precision Cleaning
---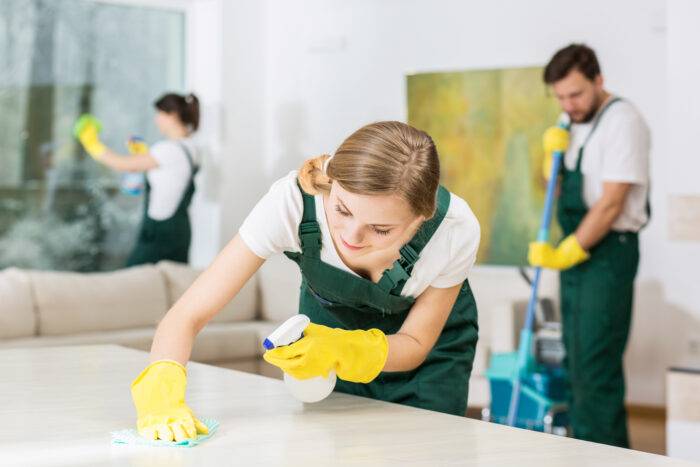 Let's face it, doing the housework isn't how most of us would choose to spend an afternoon.  Indeed, the average American has 6 chores they're putting off at any given moment! We'd rather be spending time with family, catching up with friends, relaxing on the sofa, or doing basically anything other than the cleaning.
This fact of life holds true throughout the year. But it becomes even more pronounced in the holidays. After all, 'tis season to be jolly- not to be scrubbing toilets and mopping floors!
That's where hiring a maid service in Tempe makes so much sense. Professionals at their craft, they can step in and leave your home spotless over the festive period. If you do decide to take this tack, though, it's always sensible to book your maid sooner rather than later.
In an ideal world, you'd make the call well in advance of Christmas day itself. Want to find out why that's the case? Keep reading for 6 key reasons to book your Tempe maid service prior to Christmas.
1. To Preserve a Slot
The most important reason to book your maid in Tempe before the festive period is because it gets so busy at this time of year! Cleaning services are in high demand as people rush around getting ready for Christmas.
Wait too long to call and they might be fully booked when you need them. And you know what that means:
You'd be left to do the cleaning by yourself! Thankfully, you can avoid that fate by thinking ahead and making a reservation in advance. Whether you'd like their input before and/or after Christmas, you can book your slot(s) and set your worries about the holiday housework aside.
2. To Make Sure You're Ready for Christmas
The holiday season isn't just busy for maid services though. It's a hectic time of year for everybody! You'll be running around from one task to another, buying gifts, meeting up with loved ones, attending Christmas get-togethers, and so on.
The result?
Never mind the lack of desire to do it, squeezing in the time to deep clean your home can be a genuine challenge. And that's less than ideal when you're hosting the in-laws, throwing a big party, and/or welcoming friends around for the day.
Booking a maid means you won't have to worry. You can tick the cleaning off your to-do list as soon as they're scheduled to come, and continue getting ready for Christmas.
3. To Feel Less Stressed
The holidays should be a time to celebrate, relax, and leave the worries of everyday life behind. You want to have fun, enjoy yourself, indulge in wonderful food, and revel in the Christmassy atmosphere with your loved ones! Unfortunately, the entire festive affair can become stressful when you've got more jobs to do than time to do them.
This is another incentive to hire a maid to handle the cleaning.
Schedule their support in advance and you'll no longer have to worry about doing this huge, time-consuming task. It'll be a weight off your mind as a result; one less thing to think about. Having shed the burden of responsibility, any stress in the air will dissipate and let you return to enjoying the day.
4. To Leave Your Home Spotless
Hiring someone to do the house cleaning in Phoenix is about more than just convenience though. It's also about results! Remember, maids do this for a living.
They're trained professionals who specialize in leaving living spaces spotless. Unlike many homeowners, they have all the equipment, experience, and insight required for the task. Book one to do your Christmas cleaning and you can expect a far more comprehensive clean than you'd ever achieved by yourself.
That's a big deal when you're entertaining guests and want your house to look its best. You'll receive compliments from all corners on the state of the space (without having lifted a finger to clean it!).
5. To Cook In a Clean Kitchen
Cooking an enormous Christmas dinner is hard work at the best of times. But it's even worse when you have to do it in a dirty kitchen. Aside from potential hygiene problems, it's impractical, stressful, and harder to stay organized.
Book a maid to come before the big day and this will no longer be an issue. They'll leave the kitchen in pristine condition and ready for you to cook up a storm! The surfaces will be sanitized and uncluttered, the equipment ready to use, and your dishwasher emptied in readiness for all the dirty crockery to come.
6. To Free Up Time
Ultimately, hiring a maid to help at Christmas is about freeing up time. We've already seen how this can help people prepare for the day and relieve any stress they might be feeling. But it gets better…
Having forged some space in your schedule, you can fill it with whatever you actually want to do instead.
With all the chores sorted, you can get back to playing games, eating mince pies, and sipping sherry! You can turn on the TV, snuggle up on the sofa, and hang out with your friends and family. In other words, booking a maid service in advance makes it easier to enjoy the festive period.
Book Your Maid Service in Tempe This Christmas
It doesn't matter who you are or where you live. The thought of doing the housework is rarely a positive prospect! There are a million ways you'd rather spend your time- especially when the holiday period rolls around.
Know the struggle? Well, hiring a maid service would be a perfect solution to the problem. We hope this post has highlighted why that's the case and explained the importance of making your booking in advance.
Are you ready to book a maid service in Tempe? We can help! Get in touch today to find out more.