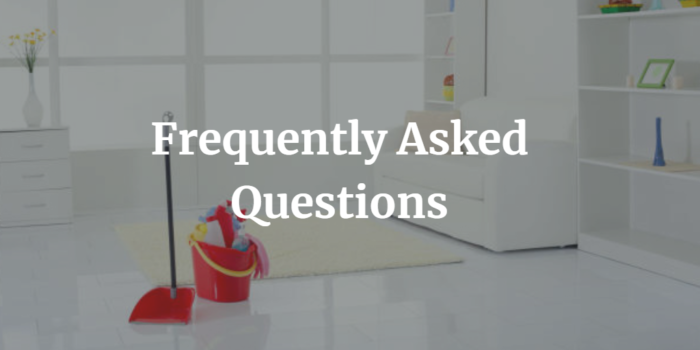 Frequently Asked Questions
These our the most popular frequently asked questions by our customers. We will continue to add to this list over time as we get new questions. If you have a question for us that is not listed, please contact us and a representative will contact you.
How do I book my cleaning appointment?
You can schedule a cleaning appointment by visiting our Book Now page, or click the "Book Now" button below. Select a day and time you'd like us to visit, give us information on the home we will be cleaning, and pay securely. All within minutes! You will not be charged until your cleaning is completed.
BOOK APPOINTMENT
What happens after my booking is completed?
You will receive notification via e-mail confirming your appointment with the details you provided.
What kind of cleaning services do you offer?

We offer a variety of services that will keep your home clean and keep you happy! Standard Cleaning, Deep Cleaning, and Move-in/out Cleanings. Visit our Our Services page to learn more on what each cleaning includes.
Can I apply a coupon to an existing appointment?
You can apply a coupon to a future appointment by logging into your account and clicking your name in the top right hand corner. You can then select "redeem voucher" and enter your code. The system will automatically apply the code to your next appointment. You can not apply your coupon to past appointment that are already completed.
Can I request special tasks or extras?
Absolutely! We have provided a list of items that you can request at an additional cost. Please visit Our Services page to see a detailed list.
Can I trust my cleaning professional?
All of our cleaning technicians go through a background check. Your security is a priority and we want to make sure you feel comfortable and confident that your home is in great hands.
Do you bring all cleaning supplies or do I have to use mine?
Our cleaning technicians will have everything they need to make your place look squeaky clean!
Our company has five star reviews on Google, Facebook, Yelp!, HomeAdvisor, and many other top review sites.
Book Your House Cleaning Appointment Now!
Contact us today at 480-418-3007 for a free quote, or visit our online booking form to schedule your appointment!