June 23, 2020 by 360 Precision Cleaning
---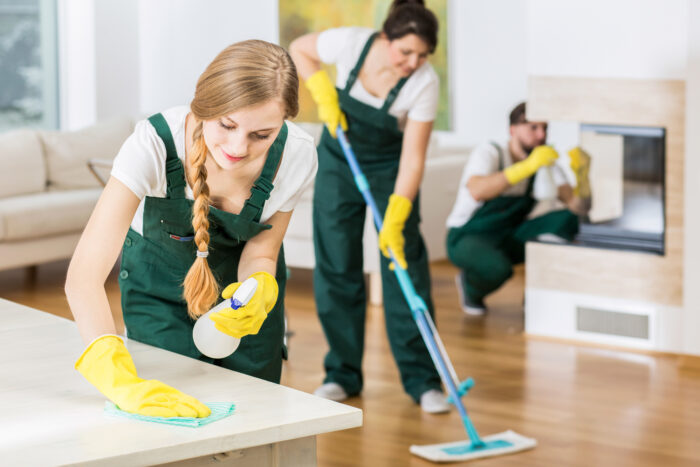 Managing a short-term rental property is no simple task in today's world. You have to organize bookings, manage your listing, ensure your property is up to par, and more.
To add to this, you need to ensure you hire the right rental cleaning service. This can be a tricky thing to get right, as many short term rental property owners aren't sure what to look for in a cleaning service.
Don't worry, though. We've outlined the following key factors to make sure you know what to look out for in the future.
This includes things specific to short-term cleaning such as laundry and specialists. Follow this guide and you'll find the right cleaning company with ease!
Rental Cleaning Service: Find a Specialist
The first thing you need to bear in mind is that not all cleaning services are created equal. Each has different properties that they clean and are therefore better at certain jobs than others.
Think of it like this: you wouldn't hire a banjo player to play bass guitar in your band. Even though these instruments are similar, there are intricacies and differences to bear in mind.
When hiring a cleaning service, you need to hire specialists in your area. That means you need to be looking for a company that specializes in cleaning residential properties and properties for short term rentals.
This way, you know that they regularly clean properties similar to yours, and have a track record of service in that sector.
It means they know exactly what they're looking for during a cleaning job. They will likely have an established routine to clean these properties efficiently.
Cleaning Service Flexibility
With short-term rental properties, many aspects can change at any one time. You could have a booking cancel or overstay beyond the allotted time that you've agreed.
In these instances, you need to be sure you can quickly hire a cleaner, or quickly reschedule a cleaning time to accommodate.
That means you need to look for a cleaning service that has a thorough booking service. This should be present on their website, and they should offer a simple way for you to book a date and a time for cleaning.
Their online booking method should include all the essential information on the booking. This includes things like property size and contact details so you know they have everything they need to complete the job.
If your cleaning services provider isn't flexible, you could be scrambling to find an alternative should something unexpected happen with your property.
Reputability in Cleaning Service Providers
Another thing you need to check when booking a cleaning services provider for your short term rental property is how reputable they are.
This is usually best checked through reviews and testimonials of previous clients. If a cleaning service doesn't show these reviews or ratings anywhere online, you should be hesitant to hire them.
These reviews prove the legitimacy and reputation of a cleaning services provider. On some occasions, you are even able to search for specific reviews. This is a good way to see how a cleaning service provider performs on rental properties.
Either way though, you want to hire a company that has many high ratings for their previous work. This guarantees that they've been able to do a good job in the past, and will likely be able to do so again for your property.
Choosing Extras When Cleaning
Many reputable cleaning services providers will also provide a list of extra cleaning items to add to a cleaning booking.
These can include deep cleaning an oven, inside windows, cleaning walls, and more. You should look out for these extras for several reasons.
The first is that they prove that these cleaners know what they are doing. They show that they have a baseline cleaning service that's efficient, but that they also have additional options for those that need them.
You should also check for them if you actually need any of these jobs done, like a deep clean. If companies won't allow you to specify this, it's unlikely they'll be able to complete that job type to the required standard that you need.
Finally, you should check these extras to see whether a cleaning service provider is using eco-friendly products.
This is an amazing way to ensure that the cleaning on your property does its bit for the environment. Not only that, but these eco-friendly products will be of high quality and ensure a similarly high quality clean.
Specifying extras is also important in terms of the details of your property, such as mentioning pets and access to the property.
As a general rule, the more information a cleaning services provider asks for, the better.
Laundry and Other Short-term Rental Necessities
You need to find a specialist when it comes to short-term rental cleaners. In particular, you should be looking for a cleaning service provider who can fulfill all the jobs required of a quick turnaround, short-term rental property clean.
One of the major aspects of this comes in the form of laundry. You'll need to make sure that all the bedding and other laundry within a property is completed before handing the keys to a new occupant.
If you don't choose a service that offers thorough laundry services, including setting up new bedding, towels, and other necessities for your guests after cleaning, then you're hiring the wrong provider.
You should also have a cleaning provider with an eagle eye for spotting problems within your property. You need to be able to rely on them to spot any issues or damages, either caused by previous occupants or by wear and tear.
If they can spot it quickly then you can fix the issue right away, ensuring it doesn't impact any future guests or your upcoming schedule.
Where Can I Find Cleaners for my Short-term Rental Property?
Now you know the key things to look for when choosing a rental cleaning service. Bear these in mind and you'll be able to find the right cleaning service for your rented property.
But if you are looking for cleaners for your rental property, you need to look no further than the team here at 360 Precision Cleaning. We're experienced in residential and commercial property cleaning including a specific understanding of what's required to clean rented properties.
Fill in our online booking form and you'll have completed everything you need to get started and book a clean with us today.