October 6, 2020 by 360 Precision Cleaning
---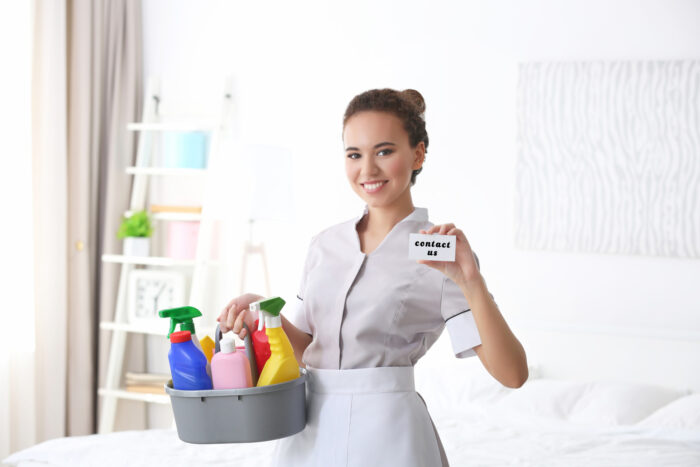 Are you due for a good cleaning in your home?
Cleaning your house can be exhausting. If you neglect it too long (due to illness, being too busy, or even just a lack of motivation), it becomes a huge undertaking.
Why not get a professional house cleaning to help offset some of that effort?
But what kind of cleaning is right for you? Some people might be in need of a maid service while others will be more suited to full house cleaning services. Do you know the difference?
If not, we're here to help. Make sure that you get the services that you need when you're choosing someone to come and get your home into tip-top shape. Keep reading to learn the difference between a maid service and a house cleaning service so that you can decide which is right for you.
What Is a Maid Service?
Many people think of maids as ladies in black and white dresses and frilly headbands from cartoons and movies. In 2020, this isn't accurate. The French maid is a stereotype that's fun to use, but no longer relevant.
Maids offer services that are technically "house cleaning" but they have some differences in the types of services that they offer. A maid might clean common household things that you wouldn't have thought of cleaning. When we see a mess every day, we can become blind to it.
If you're looking for a maid, here's what you can expect.
Services Offered
A maid service tends to be a lighter form of house cleaning. This is good for people who don't need a deep clean but they do need a bit of extra help around the home.
If your home is too messy a maid might not be the right choice for you.
A professional maid service will focus on your whole home, but they won't be doing a deep clean.
They'll spend more time focusing on the areas that need the most help. Around the entire house, they'll do things like dusting, sweeping, and vacuuming where it's necessary. They'll also clean your glass doors and windows.
They'll do some light cleaning of bathrooms. This can include things like toilet and shower cleaning, mopping, and cleaning or any mirrors or counters.
Maids can do the difficult job of cleaning the kitchen. Many people hate cleaning their kitchens, and messes accumulate quickly. A maid service can do the hard tasks of cleaning the stove and oven, mopping the floors, and getting rid of messes on the cabinets and counters.
In short, a maid cleans your home like you would clean your home if you had the time and energy.
Hours or Time In Your Home
With maids, you have the option to have them come to your home once or perform reoccurring services. If your home frequently gets messy, having a weekly or monthly maid service can help you stay on top of things.
It's easier to clean when there's someone doing a thorough clean more often. Messes don't pile up and you're able to relax in a tidy home.
What About House Cleaning?
Specialized house cleaning services range from about the same offerings as maid services to full deep cleanings and move-out cleans.
House cleaning is more of a general term, but we're going to use it to talk about the variety of house cleaning services that can be offered.
Services Offered
Many people require a deep clean of their home, apartment, or another type of rental. As the years go by, dirt accumulates. A home that's happily lived-in won't stay pristine forever and this is normal.
Have you ever had the experience of moving a piece of furniture and noticing the difference in color in the carpeting? It can be extreme and you won't notice it until it becomes obvious.
This is where a deep clean comes in to save the day.
When we move out of our owned homes or rentals, we want to make sure that they're in picture-perfect condition. For rentals, this is so we can get the security deposit back. Many landlords and property management companies are sticklers about cleanliness and will hold onto your deposit for the smallest reasons.
It's best to not give them the opportunity.
A deep clean is going to include things like steaming the carpets, scrubbing all of the surfaces that you never notice (like the vents, baseboards, and even light switches), and ensuring that everything looks like new.
It will also include all of the things that are offered in a standard maid service. You'll still get the mopping, sweeping, and general tidying but with an extra boost that will make your home look perfect for new renters or owners.
House cleaning can also include customized services depending on your needs!
Hours or Time In Your Home
Big cleans like this don't need to be done every week. It's recommended that you do a deep clean every 6 months or so if you're not moving out provided that you're someone who has a hard time keeping things as clean as they should be.
When you are moving out, this is going to be a one-time event. You might even choose to do it when you're moving into a new place that isn't as clean as you left your old one.
Standard house cleaning is a reoccurring service that can happen more often.
Is It Time for a House Cleaning?
Look around your home, is it as clean as you want it to be? Unless you're a superhero with a compulsion to be tidy, you could probably use some help.
Whether you need the lighter cleaning of a maid service or the more intensive service of a deep clean, we've got you covered. We want to help anyone in need of cleaning services in Scottsdale, Phoenix, and Tempe Arizona!
Visit our site to learn more about what types of house cleaning we have to offer so you can make the right choice for your home.