October 19, 2021 by 360 Precision Cleaning
---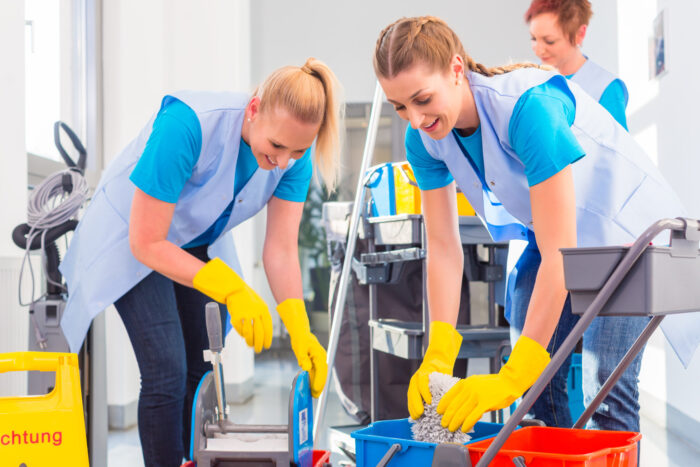 Do you live in the Scottsdale area? Are you looking for professional cleaning services that will meet your needs?
Believe it or not, house cleaning services are about so much more than getting someone to mop and vacuum once a week. They could mean the difference between a healthy, happy home and a disorganized mess.
Here's what you need to know about finding the best professional cleaning services in your area.
The Benefits Of Hiring a Professional Cleaning Services
Maybe you're a parent or a busy professional who only gets to the cleaning on the weekends, if at all. You may be dealing with clutter and dusty corners that could be seriously impacting your family's health.
If, for example, you have folks in your home with allergies or asthma, dust and mold could be causing serious problems for them. These include constant runny noses, sneezing, and soar throats. Bacteria left unattended could be causing colds, cases of flu, and stomach viruses.
Climates like the one in Scottsdale come with hot, dry summers. This can lead to a lot of dust, as well as a lack of comfort when cleaning. Professional cleaners can offer you a lot of benefits.
A professional cleaning service can give you the assurance that your home is being thoroughly cleaned on a regular basis. In addition, they will come with their own cleaning supplies and know which cleaners to use on which surfaces. This can end up saving you a lot of time and money in the long run.
The right professionals have an efficient system. They will know how to get each room thoroughly cleaned in a quick but thorough manner.
If you hire your cleaning service to do regular work, they may give you a discount. In addition, you can ask a trusted cleaning service to help you out with other jobs if you need their assistance. These include move-in/move-out cleaning, deep cleaning, and vacation rental cleaning.
Believe it or not, a clean home can actually reduce stress and help you concentrate on what's important. A busy parent or professional can enjoy these benefits without having to take time and attention away from their family or work. If a messy house is holding you back, it pays to invest in a professional cleaning service.
What To Look For In a Professional Cleaning Service
One great way to start searching for a service is to reach out to community groups on social media. When you get a recommendation, don't be afraid to ask questions.
Was the cleaning service thorough and on time? Did they charge a reasonable price? Would you trust them to clean your house again?
You can also read online reviews and get an idea of what former clients are saying. If you're seeing a lot of similar positive comments, you can be confident that you're making a good decision.
It's also important to hire a cleaner who is bonded and insured. This can give you the assurance that they're going to do a good job, as well as protect you in case an accident occurs while they are in your home.
In addition, you'll want to find out about any extra services that you're cleaning service offers. This can give you a great resource if you plan on moving or hosting a large gathering in the future. Scottsdale itself has a number of quality professional cleaning services you can take advantage of.
1. 360 Precision Cleaning
360 Precision cleaning is a company that specializes in home and office cleaning, including regular cleanings, deep cleaning, and vacation rental cleaning.
360 Precision Cleaning uses eco-friendly products, so you won't need to worry about friends or family members with allergies to cleaning products. In addition, you can check out their 5-star reviews on Google, Facebook, and Yelp.
To book 360 Precision Cleaning, you simply need to go to their website and choose a date and time for your cleaning. For your first appointment, you can give special instructions on areas you want them to focus on.
In addition, 360 Precision Cleaning performs deep-cleaning services. If you're hosting a holiday banquet or renting your house to Scottsdale vacationers, you'll know you can call them to help you make a great impression.
2. Commercial Cleaners
Some cleaning services specialize in commercial cleaning. These folks will mop large amounts of flooring, sanitize bathrooms, and clean floors. Your commercial cleaning service may also wash windows, dust surfaces, and polish furniture.
Commercial cleaners come with equipment that's specialized for cleaning commercial areas. This can end up saving you time and money on expensive tools and hard work.
3. Outdoor Cleaners
Some cleaning services focus on outdoor jobs. These could include a power washing company or gutter cleaning service.
The exterior of your home is what gives others an impression of who you are. Getting rid of debris and peeling can do wonders for your home's curb appeal.
These tasks, however, often involve lifting heavy equipment or going up on ladders. If this is not something you feel qualified to do, you can talk to cleaning services that will help spruce up your home's exterior a few times a year.
Shining On
If you're serious about getting your home clean, you'll want to find the best cleaning services in the Scottsdale area. The right professionals will be thorough, experienced, and affordable. Once you find them, you'll be on your way to a healthier, happier home in no time.
Don't stop getting smart about a cleaner home now. For top-notch cleaning in Scottsdale, contact us today.