February 9, 2022 by 360 Precision Cleaning
---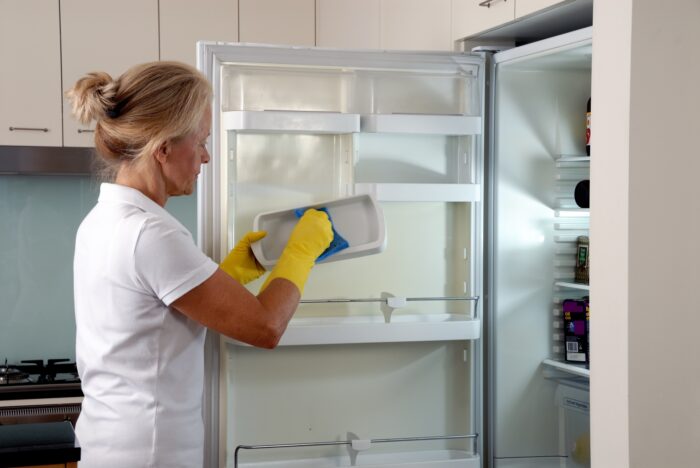 Last year, over 27.1 million Americans moved. That's a lot of move-ins and move-outs. If you're moving and considering cleaning your home or apartment yourself, you've come to the right place. We've rounded up the top five reasons why you need a move-out cleaning service in Phoenix.
From saving your precious time to making sure the job is done right, we'll go over just a few of the many reasons to hire a professional cleaning service. Let's jump in and see if move-out cleaning services near Phoenix are right for you.
1. You'll Save Time
Cleaning your entire apartment or home after a move-out takes time. Your time is already precious. During a move, it's even more valuable. Between work, school, kids, and all stress of life, it's hard to carve out time to move, pack, and clean two homes.
Before you move, you've likely already spent weeks packing, purging, cleaning, and getting your home ready to sell or move out of. Unfortunately, after you move out, there's still the move-out cleaning left on your to-do list. Before you can go and start setting up your new home, you'll need to make sure your current home is clean and disinfected.
Cleaning your home yourself means trips back to your old home, driving back and forth, and buying cleaning supplies. You'll constantly be going back and forth to your old home spending precious time cleaning. It's hard to even know if the home is getting properly cleaned. Save yourself time and consider hiring a professional.
2. You'll Save Yourself Stress
Moving is stressful enough. When you're worried about packing, hiring a moving truck, and getting all your paperwork signed, the last thing you want to do is to think about cleaning your house. This is where we can come in and make sure the cleaning is done right.
With everything going on in the world, cleaning can be stressful. You want to make sure you're removing any harmful germs and properly disinfecting before someone new moves in. Surfaces need to be cleaned the right way to stop the spread of dangerous viruses and bacteria. Cleaning was stressful enough even more COVID-19.
Save yourself the stress and let us come in and do a proper move-out clean. We'll make sure the surfaces are cleaned, the kitchen is spotless, and your new owners will feel safe. We can also do the same for your new home before you move in. Let us take one more thing off your shoulders.
3. Landlords May Require It
Many landlords are now requiring a professional move-out clean. This is to ensure the apartment you're leaving is cleaned properly and disinfected before someone new moves in. Check with your landlord to see if a move-out clean is required.
If it is, don't stress. Let us take this off your to-do list and make sure your apartment is cleaned the right way. Another perk to cleaning your apartment professionally is that your apartment will look great for your final walk-through.
Before the new tenant moves in, your landlord or property management company will be coming through to make sure your apartment is ready to rent. This means checking for any big messes, damage, or poor conditions. If your apartment is a dirty mess, they may deduct money from your security deposit.
A professional cleaning will help make sure you get more back from your security deposit. Let us help make your apartment look its best before your inspection. This means less stress for you and more security deposit in your pocket.
4. Your Home Buyer Expects a Clean Home at the Final Walk-Through
Before a potential buyer purchases a home, there is often a final walk-through. During this process, the homeowners make sure nothing was damaged or broken during the move. Having professional cleaning done will help make sure your home looks amazing.
When your new buyers walk in, they want to see the home has been cleaned and taken care of. Buyers want to walk in and feel excited to move in. If they come in and see the house is a mess after your move, they may make some complaints or even hold up the closing.
Set up a move-out cleaning for the day after you move. This gives us time to come in and make the home spotless again. Your buyers will feel more at ease, and this will leave them with a great first impression. Make sure they have nothing to complain about so that your closing goes smoothly.
5. Save Money When You Hire the Professionals
While you may think that hiring professional cleaners will cost you money, they will save you money in the long run. When you try to clean your home yourself, you'll likely need to take time off work, buy cleaning supplies, and equipment. This is all money from your pocket.
If your apartment is dirty, this could also cost you money from your landlord. They may charge you for cleaning or for leaving the apartment in bad condition. You could lose some of your security deposit or even be fined.
If your home is dirty on closing day, buyers could expect a credit or some money back at the closing table. This is all costing you money. Save money and hire professionals.
Hire a Move-Out Cleaning Service in Phoenix
If you're looking to hire a move-out cleaning service in Phoenix, Scottsdale, Tempe, and the surrounding areas, we're here to help. We know what it takes to make your home clean and safe after you've moved out.
If you're ready to save yourself time and stress, fill out the contact form here. We'll take care of everything so that you can move out and enjoy your new home.