November 8, 2021 by 360 Precision Cleaning
---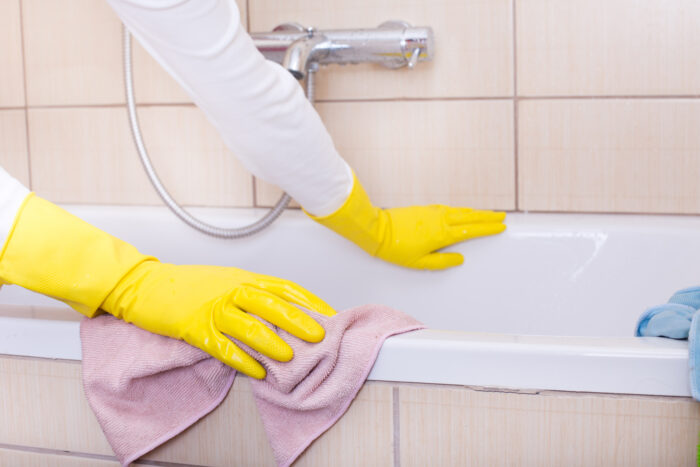 If you're looking for a boost in productivity around the workplace, the solution may be as simple as hiring a cleaner. Commercial cleaners will get rid of the clutter and germs that cause slowdowns and sick days. With a cleaner workspace, you and your employees will be able to work more efficiently and get greater satisfaction out of your time in the office. You'll have many options when it's time for hiring commercial cleaning services.
While you may want to pick the first company you find or the best price, there are some key factors to consider to ensure you get the best value possible.
Finding the best commercial cleaning service in Scottsdale doesn't have to be complicated. We'll walk you through a simple checklist to make sure you pick the perfect service the first time.
Commercial Cleaning Experience
Cleaning companies are eager to earn your business, so they may step outside of their comfort zone every now and then to gain new customers. But a company that specializes in residential cleaning may not be equipped to handle a commercial space, no matter how long they've been in operation.
When you find a cleaning company that might fit your needs, look into their commercial cleaning experience. If they have several years of experience working with commercial clients, you can be confident that they have proven their abilities on the job.
That doesn't mean you should rule out younger companies. However, they'll need to offer more value in some other area than a more established company.
Certifications
One of the primary reasons to hire commercial cleaners is the safety it provides. Much of that safety comes from the certifications your cleaners carry.
Before hiring a commercial cleaning service, check their certifications to make sure they align with your goals. For example, if you value eco-friendliness, look for businesses that have green cleaning certifications. With the number of different certifications available, it's easy to find companies with the right level of training to tackle your unique office cleaning needs.
Insurance and Licenses
Commercial cleaners need basic licensing and insurance to even offer their services, but it's essential to verify them before signing a contract. Inviting anyone into your space opens up the possibility of accidents or damage. You need to understand how your cleaning service handles any incidents.
Without insurance, you risk hiring a company that may be unable to manage property damage or injury. Make sure your cleaner carries a business license and general liability insurance at least. These confirm the authenticity of the business, providing peace of mind that if they damage anything in the office, they'll take care of it.
Equipment
Try to gain an understanding of the gear and commercial cleaning equipment that a company uses. It will give you a clear idea of the overall cleaning experience. For example, if the crew wears company uniforms and uses state-of-the-art equipment, it's a good sign that they're professional and competent.
The equipment and appearance of the crew tie into the need for commercial cleaning experience mentioned earlier. Cleaning an office is not like cleaning a home. Your service company needs to be prepared to cover your workspace thoroughly and efficiently.
Ineffective or slow cleaning can hamper productivity in the office. The equipment your cleaners use will give you a fair estimate of the quality you can expect.
Online Reviews
What are other people saying about the cleaning companies in your area? It's fine to get insight directly from the company, but nothing gives you a more unbiased idea of a company's service than reading online reviews. Hop on Facebook, Yelp, or Google, and check which businesses are getting the best ratings.
When you're researching businesses, don't look at the star rating alone. Sort reviews by newest to oldest, and take the number of reviews into account. Businesses can change over time, and an overall rating may not reflect the current circumstances.
For example, a company may have 4.9 stars on Google, but you may find that there have been a ton of negative reviews lately since the business changed hands. The only reason they have a great rating is because of a thousand old 5-star reviews.
Make sure your company isn't just established but also consistent. If you're still unsure which services would be a good fit, reach out to your community for recommendations.
Overall Value
Cost is an obvious consideration for any service. Make sure you plan a reasonable office cleaning budget. Get quotes from several companies, eliminating those that charge a little too much.
Beyond the bottom-line cost, you have to compare the value each service offers. Don't opt for the most inexpensive service based on price alone. Consider the price alongside other criteria, including:
Cleaning materials and processes
Availability and recurring service options
Cleaning time

Of course, the cleaner's reputation, professionalism, and expertise are crucial as well. The best commercial cleaning service will be affordable and dependable. Look for a service that can meet more of your specific needs than any other company.

Hiring Commercial Cleaning Services in Scottsdale
There are plenty of quality commercial cleaning companies in Scottsdale that deserve consideration. Still, with the huge number of choices, it's easy to worry about missing out on even better options.
Hiring commercial cleaning services shouldn't be a hassle. Follow these tips, and you'll be sure to find the perfect service for your office's needs.
If you need commercial cleaning for your Scottsdale business, our team at 360 Precision Cleaning is ready to take on your project. Contact us at (480) 418-3007 for information on our commercial services, or book your service today through our online portal.