April 18, 2019 by 360 Precision Cleaning
---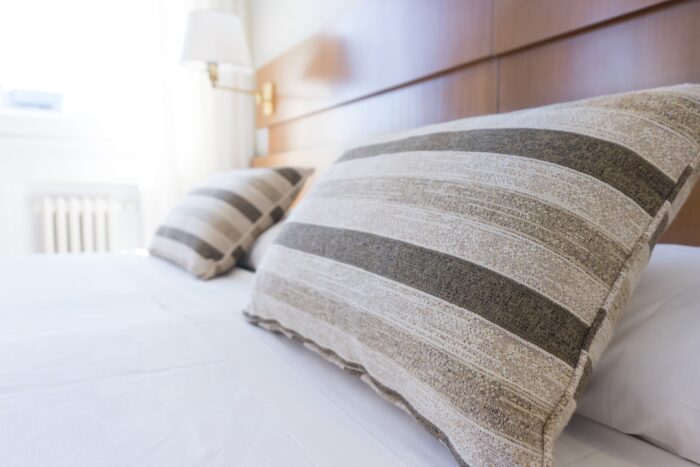 More than six million people around the world have an active listing on Airbnb. Are you one of them?

Co-founders Brian Chesky and Joe Gebbia hosted the first guest in the fall of 2007, when an in-demand design conference came to their city of San Francisco, quickly filling up hotels and leaving attendees scrambling for somewhere to stay.

Now, there are Airbnb destinations in more than 81,000 international cities and more than 190 countries.

If you've opened up your property to the short-term rental platform, how do you plan to clean it? If you'd hoped to tackle the chore yourself, you could limit how often it's available, directly affecting your income.

Today, we're sharing why it's wisest to let an Airbnb cleaning company take the reins instead. This way, you're freed up and the space stays in immaculate condition, even when it's rented on back-to-back dates.

Ready to learn more? Let's get started!

[dfp_ads id=1670]
1. It Takes the Stress Away
Put simply, managing and renting a property isn't easy.
In addition to keeping your space tidy, you also have to handle scheduling logistics, facilitate guest communication, provide tourist recommendations, respond to user questions and keep your rating high to attract new guests.
As such, taking time away from your professional and personal life to visit your rental in person and give it a good scrub-down after every stay is unrealistic. This is true even if you rent a space within your own home.
It won't take long before the allure of Airbnb's earning potential fades away to the grim reality that you're always chained to property upkeep.
2. The Standards are Higher
You could be known as the go-to cleaner in your family. You may keep a stash of antimicrobial wipes, sponges, erasers, and washcloths on you at all times to tackle any stain or spill.
Yet, unless you've been trained and certified as a cleaning service expert, it's likely you'll miss something.
There's a difference between using drugstore products and leveraging professional-grade ones to clean carpet, wash windows, scrub upholstery and mop floors.
Airbnb cleaning services leave your property spotless from top to bottom. This is a level of detail even the most well-meaning owner can't aspire to, if only for the lack of time.
3. You Can Focus on Maintenance, Not Cleanliness
When you own a rental property, it's up to you to make sure everything is in working order. Nothing diminishes an otherwise gorgeous kitchen like walking into it to find the overhead lights are burnt out.

In the same vein, you don't want guests to discover a broken HVAC system, slow WiFi signal or broken desk drawer.

Keeping up with the maintenance and repair tasks required as an Airbnb host is a job in itself. It's smart to leave the cleaning aspect to a dedicated team that can take care of the legwork for you.

[dfp_ads id=1672]
4. Your Rating Depends on It
This is one of the most important reasons why hosts should outsource their Airbnb cleaning to a third-party company.
When prospective guests look at your listing, they're not just observing your photos and reading your description. They're also taking a close look at your rating.
Those five little stars hold enormous meaning, and an unkempt bathroom or dirty kitchen floor can make all the difference in how many you get.
The stress associated with the platform's star rating system is a leading cause of Airbnb host burnout. When you handle all aspects of the rental, including cleaning, on your own, it's hard not to take every review as a personal judgment.
Hiring a professional cleaning company to oversee your rental can give you the peace of mind that your space is well-positioned to receive five stars, at least on account of tidiness.
5. It Allows You Free Time
While some people rely on Airbnb to create a full-time income, many online hosts use it as a side gig, leveraging it as an opportunity to make extra cash apart from their 9-to-5 job.
Maybe you have a vacation home that you rent while you're away. Or, you might have a finished basement or grown child's room you're no longer using.
Regardless, it's unlikely you want to spend all of your spare time fussing over the property. It's time-consuming enough to make sure all systems are running as they should. If you're constantly stressing over keeping it spotless, you may not have time for anything else.
Renting on the website should be an enjoyable activity. It shouldn't overtake your life to the point of exhaustion.
6. You Can Build Connections
As a property owner, you know how important is to have people you can call on to help with various needs.
From roofing contractors to handymen, a list of go-to numbers is a critical resource for both emergencies and daily upkeep.
When you add a professional cleaning company to the mix, you can help create a valuable connection that spans past the Airbnb experience itself. In many cases, owners will use these experts in their personal spaces, ask them for advice and recommend them to other friends and family members.
7. You Maintain Oversight
Do you have a certain way you want your rental cleaned? A cleaning company will listen to and heed this direction.
For instance, you may have an heirloom sofa in the living room that you want to be treated with only organic chemicals. Or, there could be a fragile vase in the dining room that should be moved to the floor when dusting.
Upon your initial consultation (and any time thereafter), you can share this guidance with your cleaner, who will follow it closely, making sure you're as satisfied with the end results as your guests are.
8. It's Cost-Effective
While it might seem less expensive to take a DIY approach to your Airbnb cleaning, consider the long-term costs you'll accrue.
First, there are infinite bottles of solutions, cleansers, towels, and sprays to buy. Then, there's the heavy-duty equipment, such as vacuums, steamers, and mops you'll have to keep in tip-top shape.
Then, think about what your time is worth. When you're scrubbing a toilet or washing mirrors, could you be working instead? What about spending time with your loved ones?
You could also lose money if your rental doesn't meet the cleanliness standards of your guests, costing you more than if you'd let professionals take control in the first place.
Research shows that Airbnb hosts make an average monthly income of $994. Are you willing to sacrifice that paycheck to a messy bedroom?
Find Airbnb Cleaning Services You Can Trust
If you're a property owner renting your space on a short-term basis through Airbnb, you've got plenty on your plate.

Between handling online requests, juggling schedules and arranging maintenance, you're more than busy. You also need free time for work and family commitments, not to mention your sanity.

Looking for Airbnb cleaning services to help you manage it all? That's where we come in.

We're a full-service team of certified experts ready to send a cleaning technician your way who is experienced, professional and reliable. We vet all our team members through background and reference checks, in-person interviews, and client feedback to make sure you're getting the best.

Schedule a cleaning and discover the stress-free difference yourself. Then, get back to living. We've got the cleaning under control!

[dfp_ads id=1671]