April 1, 2022 by 360 Precision Cleaning
---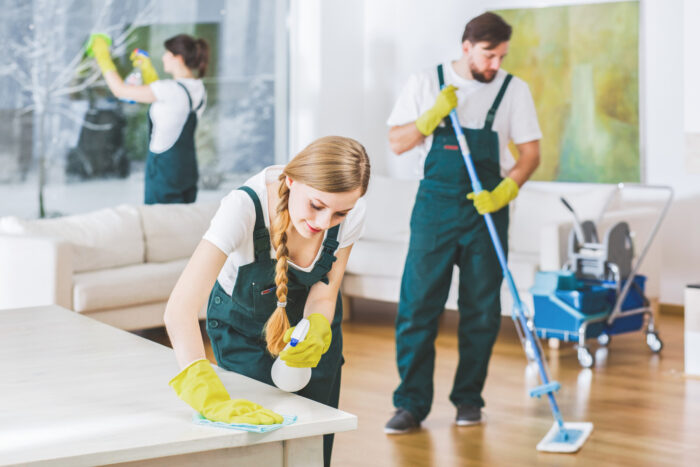 Are you getting ready to book a vacation rental? It's a good idea to be aware of extra fees. One of those is a rental deposit.
Most vacation property owners require a deposit whether you're staying for a day or a few months. It ensures they don't get stuck with a colossal cleaning bill.
It's a smart move considering that more than a third of vacation rental customers don't feel a need to clean up after themselves. That attitude can ruin things for the rest of us.
Returning your vacation rental in pristine condition is one way to make sure the owner returns your deposit. Before you pack your bags, read this brief guide to using a short-term rental cleaning service. You can use the guide to help ensure you get a deposit back on an apartment or home you're renting as well.
Is It Worth Hiring a Rental Cleaning Service?
Most vacation rental agreements clearly outline the rules for deposits. Take a few minutes to read your contract, including the fine print.
At booking, one famous rental company charges a deposit of 60% of the nightly rate. The deposit is dependent on several circumstances. If the host includes one in the rental agreement, they don't charge a deposit.
Your deposit could take a significant bite out of your vacation funds. Why not go the extra mile to ensure you don't lose the deposit?
Almost all corporate apartments and private property owners take a rental deposit. You may have paid up to 2 months' rent. That's enough to cover your costs for moving to your new home.
What Does a Short-Term Rental Cleaning Service Do?
You're wondering what this type of cleaning includes, right? You may assume a short-term rental cleaning service does the same things a residential cleaning company does. That's not entirely true.
If you're hiring the service for a vacation rental clean-up, you'll need a company that goes beyond routine house cleaning tasks.
For example, a residential cleaning service probably won't launder bedding and towels. At least not the way it needs to be done for a vacation rental. Most vacation rentals require sanitizing of linens (and mattresses) between guests.
Other tasks short-term rental cleaning professionals take care of include:
Restocking toiletries
Washing dishes
Restocking kitchen items
They also inventory the unit. This serves two purposes.
First, it ensures they stock up on items such as coffee and paper towels. Second, it serves as an inspection for damages caused by the renter.
While most people who rent vacation properties aren't concerned about who replaces the coffee filters, they don't want a charge for left-behind trash or a messy unit.
How to Get a Rental Deposit Back
Whether you're moving out of a short-term house, apartment, or vacation unit, there are several things you can do to ensure you don't have problems getting your deposit back. These are practical things anyone should do:
Read your rental agreement
Inspect the unit before moving in (even vacation rentals)
Know the rules
Take extra precautions
Take pictures if necessary
Leave a forwarding address
Let's go back to knowing the rules for a minute.
One of the short-term renters' most significant mistakes is not paying attention to the rules. Or blatantly breaking them.
If the agreement says, "no pets," make sure you make other accommodations for your cat or dog. Some rental contracts state no extra guests, human or otherwise, if they're not included in the agreement.
One of the wisest things you can do to make sure you receive your deposit is to care for the place like it belongs to you.
Why Hire a Cleaning Service for Your Rental Home?
Earlier, we mentioned the amount most property managers charge for deposits. In some states, a landlord can charge up to three times the amount of rent when collecting a security deposit.
Using a short-term cleaning service doesn't guarantee you'll get back your entire deposit. However, a property manager is far more likely to be willing to negotiate a return of your deposit when you leave the unit fresh and clean.
It's tempting to try and DIY when you're ready to move on, but consider this: do you want to end your vacation by spending a day cleaning? Are you prepared to handle the stress of moving and cleaning your rental?
Remove the stress from this picture by doing a simple search for "house cleaning service near me."
How to Hire a Local Cleaning Service
Finding a local cleaning service isn't difficult. Finding one who takes care of short-term rentals may be a bit more challenging.
You want a service that has experience with deep cleaning a home or apartment. As a reminder, these are the tasks you can expect a service like this to do for you:
Cleaning the linens
Sanitizing surfaces
Removing stains from carpets
Washing and putting away kitchenware
Dusting
Washing floors
Cleaning and sanitizing bathrooms
When property owners consider whether you should get your deposit back, they will look seriously at a unit left in unacceptable condition.
The money you spend on a rental cleaning service might be the ticket you need to get your deposit back. Besides, when you leave your rental in excellent condition, you're more likely to get a fantastic reference.
Ready to Schedule Your Cleaning Service?
As you can see, giving your rental unit back in pristine condition goes a long way toward making a property owner happy. Don't let the tasks of cleaning a vacation or short-term rental ruin the great times spent there.
Here at 360 Precision Cleaning, we value the time spent enjoying vacations. We also know how stressful moving can be, and that's why we put our hearts into our short-term rental cleaning service.
Contact us today to schedule your cleaning services.